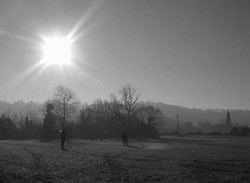 You can click on the image below to view a larger version of the image
The team assembling at 9:00am on the back road to Radway for another Sunday's detecting.
More Images - click any number below to view gallery images:
The Edgehill Metal Detecting Survey Team
The Edgehill metal detecting team comprised a group of volunteers, mainly from Warwickshire, who worked each Sunday to systematicall survey the battlefield. They included several highly experienced detectorists. Supervision on site was by Clive Kibblewhite; digital mapping and finds processing by Glenn Foard; on site photography by David Beaumont and finds scanning by Elizabeth Beaumont. Finds identification was undertaken by Angie Bolton, the Finds Liaison Officer for Warwickshire, while the Royal Armouries at Leeds provided additional advice on the specialist military artefacts. The survey was established with the assistance of, and training provided by Bob Kings, who has extensive detecting experience and has previously surveyed a Civil War siege site at Grafton Regis. Peter Burton, who has carried out extensive worked on Naseby battlefield, was also a key member of the team in 2004 & 2005.
Team members incuded:
David Beaumont, Clive Kibblewhite, Lee Macfarlane, Bryn Gethin, John Kliene, Glenn Foard, Malcolm Collins, John Evans, Jan Freeman, Ray Simpson, Derek Batten, Brian Pollard, Charles Macfarlane.