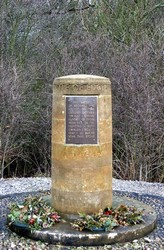 You can click on the image below to view a larger version of the image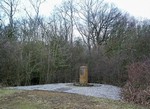 The monument beside Graveyard Coppice
More Images - click any number below to view gallery images:
Monuments
BATTLEFIELD MONUMENT
A battlefield monument was erected in the early 20th century adjacent to Graveyard Coppice, beside the road that then ran directly from Radway to Kineton. Here it was positioned at the centre of the front line of the parliament battle array, close to where several mass graves have reportedly been founding the past. Unfortunately, today this lies within the perimeter of the Edgehill depot and is not accessible to visitors.
In response to the closure of the access to the original monument, a copy was constructed in 1949 beside the B4086 Kineton to Banbury road. This is positioned about 400 metres behind the parliamentarian front line on the left wing. It is in an area where fleeing cavalry will already have begun to be cut down by the pursuing royalist troopers as Prince Rupert's charge routed Ramsey's cavalry.
A lay-by (positioned far too close to the monument) gives easy access to the monument and, because the lay-by is so small, an additional informal parking area has developed on the verge on the opposite side of the road.
The inscription on the plaque on the back of the 1949 monument:
ERECTED BY THE WARWICKSHIRE COUNTY COUNCIL AND UNVEILED BY THE LORD LIEUTENANT OF WARWICKSHIRE THE RIGHT HON THE LORD WILLOUGHBY DE BROKE V.C. A.F.C. ~ SUNDAY 23 OCTOBER 1949
FUNERARY MONUMENTS
Warmington
The monument in the churchyard at Warmington is an unusual survival, because it is a free standing gravestone. It commemorates Captain Gourdon, who died in the battle. It is hard to find amongst the many other excellent 17th and 18th century gravestones. It is however well worth the search, because such monuments from the Civil War are so rare. A photograph is provided here to help you to find it in the churchyard.
Radway
In Radway church there are two monuments to Captain Kingsmill, who died on the battlefield at Edgehill. One is a typical monumental slab, but it is also accompanied by an effigy. A mid 18th century map exists in the Record Office at Warwick which marks the exact location on the battlefield where he was struck down by a cannon ball. These two monuments were removed here when the medieval church in Radway was demolished and the present church built here, on a new site, in the 19th century.