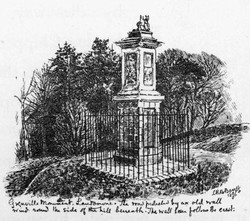 You can click on the image below to view a larger version of the image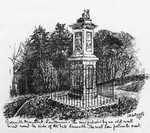 Grenvile monument on Lansdown Hill, as depicted by Barrett, 1896.
Recommended reading on the battle
These web pages are largely based on the information in Adair 1997 and in the English Heritage report. The English Heritage report provides by far the most detailed discussion of the battle. Significant plans of the possible deployments and action are given in Burne & Young, Adair, Smurthwaite and English Heritage, though none is wholly satisfactory. The deployments mapped in these web pages are broadly based on Adair.
Adair, John. Roundhead general: The Campaigns of Sir William Waller, 1997.
Barrett, Charles Raymond Booth. Battles and Battlefields in England. London: Innes & Co., 1896.
Burne, Alfred H. The battlefields of England. London: Greenhill Books, 1996.
Burne, Alfred Higgins, and Peter Young. The Great Civil War : a military history of the first Civil War, 1642-1646. London: Eyre & Spottiswoode, 1959.
Clark, David. Battlefield Walks : The South, 1996.
Edgar, F T R. Sir Ralph Hopton: The King's Man in the West, 1968.
English Heritage. "Battlefield Report: Lansdown Hill." English Heritage, 1995.
Getmapping. British Battles: Amazing Views, 2002.
Morris, Robert. The battles of Lansdown and Roundway 1643, English Civil War battles. Bristol: Stuart, 1993.
Rogers, H C B. Battles and Generals of the Civil Wars 1642 - 1651, 1968.
Smurthwaite, David. The Complete Guide to the Battlefields of Britain. London: Michael Joseph, 1993.
Walters John, Cuming. Bygone Somerset. London: W. Andrews & co., 1897.
Warner, Philip. British Battlefields: The Definitive Guide to Warfare in England and Scotland, 2002.
Wroughton, John. "Civil War Trail Around Bath (leaflet)." The Lansdown Press, 1993.
Wroughton, John. "An Iron Cannon Ball." Archaeology (South Gloucestershire Council Newsletter), no. 3 (2002).