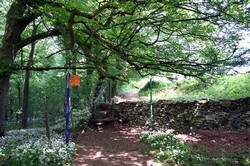 You can click on the image below to view a larger version of the image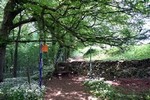 The trail along the scarp edge is an easy walk, well marked and with good stiles and gates.
Battlefield Walks
The two walks described here are meant to be used in conjunction with the Battlefield OS Explorer map, which can be downloaded from the download area on the left of the screen.
The traffic on the main roads that cross the battlefield is very heavy and fast and so great care must be taken when crossing these roads. There are no toilets, pubs or shops anywhere on the battlefield. The nearest toilets will be found at the picnic site car park on Tog Hill, off the A420. Bath, though always busy, is the nearest location for refreshments.
Scarp edge walk: 5km (3 ml): an easy walk over fairly level ground on a well marked path with well maintained gates and stiles, providing stunning views across the whole battlefield.
Circular walk: 7.5 km (4.5ml): a more demanding walk involving two long steep descents and ascents of Freezing Hill and Lansdown Hill and including 2km on narrow but very quiet minor roads.
FURTHER READING
Of the various published battlefield guides only Clark provides a detailed description of a battlefield walk at Lansdown. However his suggestion that the visitor walks down the road which descends Freezing Hill is not recommended here due to the narrowness of the road and the volume and speed of the traffic.
Clark, David. Battlefield Walks : The South, 1996.