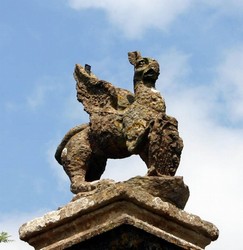 You can click on the image below to view a larger version of the image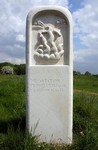 New markers commemorating the battle were placed along the northern edge of Lansdown Hill in 2003.
More Images - click any number below to view gallery images:
Battlefield Monuments
Lansdown boasts one of our earliest battlefield monuments although, unlike most, it commemorates the death of a single individual rather than marking the battle as a whole. The monument, which is in the care of English Heritage, was erected in 1720 for Lord Lansdown in memory of his grandfather, Sir Bevill Grenvile, a Cornish royalist commander. The inscription on the monument gives a different spelling of his name because the family name was changed to Granville later in the 17th century. The monument probably lies close to where Grenvile fell. As this occurred at the turning point of the battle and at the heart of the fighting, so the monument almost certainly marks the centre of the main action.
In 2003 a series of three modern marker stones, carved with designs derived from contemporary 17th century publications, have also been added. Each is placed alongside the new interpretation panels on the battlefield trail which follows the scarp edge.