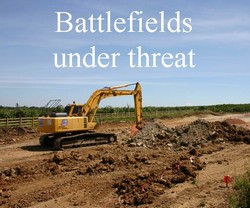 You can click on the image below to view a larger version of the image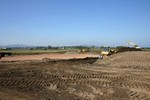 Development in 2005 encroaching onto the site of Pinkie battlefield (Scotland, 1547). This is a site potentially of international significance in terms of battlefield archaeology, because it is a major battle from the period of transition from archery to firearms.
Battlefields Under Threat
There are many historic Fields of Conflict under threat from various types of land use change, uncontrolled metal detecting and, in some case, from continuing agricultural activities. The following pages are being developed, with the help of colleagues in the UK and further afield, to provide information on some of the sites most under threat worldwide.
In many cases, if the appropriate information is provided to planners and developers then they often prove sympathetic to the need to conserve our battlefields. Unfortunately, in many cases, the neccessary information and the appropriate specialist advice has simply not been available to them.
To report a threat to a battlefield it would be helpful if you could fill out a copy of the Threat Report Form, which can be downloaded from the left hand side of this page, and send it to the Trust's National Coordinator