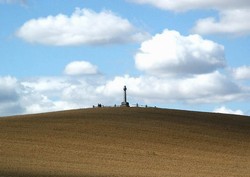 You can click on the image below to view a larger version of the image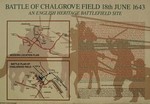 Interpretation panel adjacent to the Hampden monument at Chalgrove battlefield
More Images - click any number below to view gallery images:
Visiting
'A large part of a victory depends on the actual place in which the battle is fought.... If we are strong in cavalry, we should opt for plains; if in infantry, we should choose confined places, obstructed by ditches, marshes or trees...'.
(Vegetius, Epitoma Rei Militaris, c.AD 400)
The best way in which to understand a battle is to walk the ground and get a feel for the landscape at first hand. Only when you stand on the field itself can you fully appreciate the military potential of a slight rise, the real scale of a steep scarp or the significant cover that might have been offered by a particular hedgerow. Though the terrain you see today may have changed in many ways since the day on which the action was fought, the well informed visitor to most battlefields can still begin to appreciate some of the opportunities, and threats, that the battlefield offered.
With this in mind, and to help you make the most of a visit, for each of the featured battlefields we have provided a range of information on the historic terrain and the events of the battle. For some, there is also a recommended driving and/or walking tour. Armed with this and the other resources on the website, a self guided walk around a battlefield can be a very rewarding experience.
However there is nothing to beat a tour with an experienced battlefield guide, so why not follow the 'Events' link at the bottom of this page to see the Trust's programme of forthcoming walks.