Bosworth 1485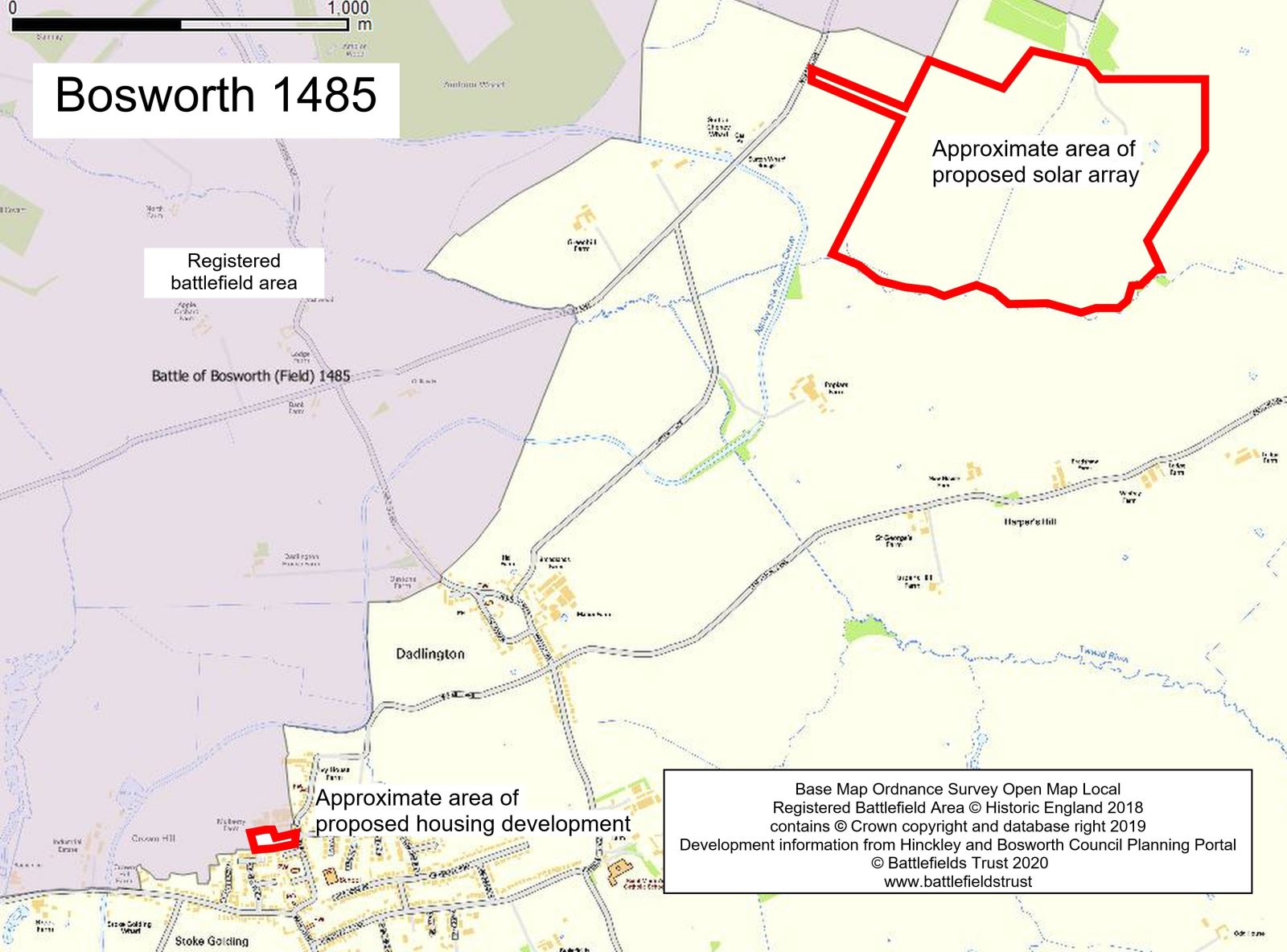 Bosworth 1485
Following the decision by Hinckley and Bosworth Borough Council in September 2018 to allow an autonomous vehicle testing track to be built on part of the western side of Bosworth battlefield, two further planning applications were made in late 2019 which also impact the registered area.
The first was for a solar array adjacent to the eastern side the battlefield, but not on the registered area. The Trust responded to the planning application by arguing for archaeological field work in advance of any planning agreement. The aim of this would be to identify battle related material on the proposed development area and investigate a possible Roman road which runs through it that may have been used by Yorkist forces. Without further investigation, it seems to the Trust that the Council will not be able to discharge its responsibility under existing planning rules to make a judgement on whether the benefit of the development outweighs the damage it will cause to the heritage. If planning permission is to be granted, the Trust supports the recommendation contained within the developer's Heritage Impact Assessment for increased screening of the site and has asked for a buffer zone to be established to protect views from the registered battlefield area and its wider setting.
The second application sought permission to build six houses in Stoke Golding, partly on a small area of Crown Hill, where Henry Tudor was reputedly crowned Henry VII, that is within the registered battlefield area. Although The proposed development will have a less than substantial impact on the battlefield, but the Council still needs to balance the public benefit of the development against the harm to the battlefield. As far as the Battlefields Trust can see the applicant has not explained the public benefit of the development. There are no affordable homes as part of the proposal and the local plan housing need in Stoke Golding has apparently already been met. Given this, the Battlefields Trust has objected to the development and highlighted the risks to the Council of permitting incremental damage to the battlefield by agreeing a series of 'less than substantial harm' applications.
Further Battlefields Trust information on the battle of Bosworth can be found at http://battlefieldstrust.com/resource-centre/warsoftheroses/battleview.asp?BattleFieldId=8