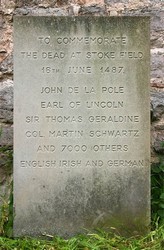 You can click on the image below to view a larger version of the image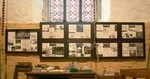 Interpretation panels prepared for the 1987 anniversary, now displayed in the church at East Stoke.
More Images - click any number below to view gallery images:
Monuments & Interpretation
EAST STOKE CHURCHYARD
At East Stoke there is a modern monument to those who fell in the battle. It is positioned just outside the church porch, adjacent to the south wall of the tower.
BURRAND STONE
Another inscribed stone, known as the Burrand Stone, stands on the hilltop to the south west of the village, where Henry VII is said to have raised his standard after the victory. It is not positioned adjacent to a right of way and so is not accessible. Its wording reads:
'HERE STOOD THE BURRAND BUSH PLANTED ON THE SPOT WHERE HENRY VII PLACED HIS STANDARD AFTER THE BATTLE OF STOKE JUNE 16TH 1487'.
INTERPRETATION
The interpretation scheme implemented to commemorate the 500th anniversary of the battle has long since disappeared. However copies of the excellent interpretation panels are all displayed in the base of the church tower in East Stoke (The door to the tower is stiff but it is normally unlocked). Otherwise the church is rather disappointing and lacks anything else significant related to the battle. There is no other on site interpretation relating to the battle.