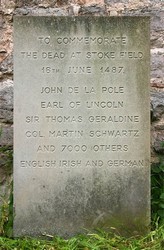 You can click on the image below to view a larger version of the image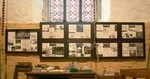 Interpretation panels prepared for the 1987 anniversary, now displayed in the church at East Stoke.
More Images - click any number below to view gallery images:
Monuments & Interpretation
EAST STOKE CHURCHYARD
At East Stoke there is a modern monument to those who fell in the battle. It is positioned just outside the church porch, adjacent to the south wall of the tower.
BURRAND STONE
Another inscribed stone, known as the Burrand Stone, stands on the hilltop to the south west of the village, where Henry VII is said to have raised his standard after the victory. It is not positioned adjacent to a right of way and so is not accessible. Its wording reads:
'HERE STOOD THE BURRAND BUSH PLANTED ON THE SPOT WHERE HENRY VII PLACED HIS STANDARD AFTER THE BATTLE OF STOKE JUNE 16TH 1487'.
INTERPRETATION
Five new interpretation panels were erected in time for the 531st anniversary of the battle on 16th June 2018. Both the panels and the accompanying trail leaflet are a result of a collaboration between Nottinghamshire County Council and the Battlefields Trust East Midlands Region. Both the panels and the trail leaflet give directions to the next panel on the trail. Much of the trail is across private land, so please keep to the route and respect the environment you are walking through. The interpretation panels erected for the 500th anniversary commemorations in 1987 had long ago been removed, although they are displayed in the bell tower of St Oswald's Church, which you will pass on the trail.