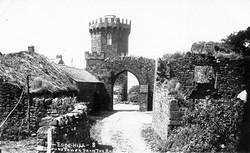 You can click on the image below to view a larger version of the image
The Castle, in the 19th century (above)and now
More Images - click any number below to view gallery images:
other places to visit
THE CASTLE INN
The 'castle' is actually an 18th century folly, built on the site where traditionally Charles I is said to have viewed the field before the battle. The prospect of the battlefield from the pub garden is still an excellent one today. Indeed it is probably the best view from the top of the Edgehill scarp, because almost everywhere else the scene is obscured by the dense cover of trees, which have been planted or grown up since the battle.
ARLESCOTE HOUSE
The House, where the two young princes were quartered at the time of the battle, can be seen from the road through Arlescote, immediately to the south east of the battlefield.
WORMLEIGHTON
10 miles north east of Edgehill, in the hamlet of Wormleighton, the gatehouse is all that survives of the country house where Prince Rupert was quartered on the night before the battle.
BURTON DASSETT
Excellent distant views can be obtained of Edgehill and the Vale of the Red Horse from the country park (parking fee) immediately to the north of Burton Dassett village, 2 miles north east of Edgehill.
MUSEUMS
The museum at Farnborough Hall, mentioned in some of the older editions of battlefield guides, which was open in the 1980s / early 1990s, is now closed and attempts to replace it with a modern interpretative facility have so far failed.
NEARBY BATTLEFIELDS
The two closest battlefields are that of 1644 at Cropredy (8 miles) and of 1469 at Edgcote (10 miles). These are currently being linked by a battlefield trail being laid out by the Battlefields Trust.
OTHER RELATED SITES
Broughton Castle, near Banbury, was the home of Lord Saye and Sele, a parliamentarian commander whose regiment fought in the battle of Edgehill. It is open to the public.