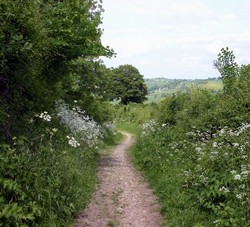 You can click on the image below to view a larger version of the image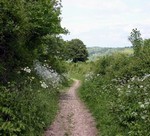 Several lanes give access through the hedged fields on either flank of Waller's position. They probably existed in 1643 and may have been used by royalist forces in their attack.
More Images - click any number below to view gallery images:
Counter Attack
Waller tried to encourage a royalist attack by feigning retreat, and then by artillery fire on the royalists as they stood in battle array on Freezing Hill. Hopton responded, advancing in an all out attack on Waller's almost impregnable hilltop position. Parties of commanded musketeers attacked on either flank, advancing across the valley and up the slope under the cover of the hedged enclosures. The main body of pike, horse and remaining musketeers advanced along the 'broad way' which approached the centre of the scarp, perhaps close to the line of the main road which ascends the hill today.
The flanking attacks by the royalist musketeers were through the woods but may also have taken advantage of several small embanked lanes which ascend the east and west extremities of the hill. Eventually they drove back the parliamentarians and gained the hilltop. In the centre the royalist main body faced a far harder task because of the steepness of the hill, the fire from the musketeers and artillery along the defences and, once the royalists reached the brow of the hill, from cavalry charges. There was some cover provided by a stone wall where the road ascended the hill but little as they reached the top of the hill. After being repulsed five time, the royalists finally gained a foothold on the plateau edge. The Cornish infantry regiment of Sir Bevill Grenvile in particular took heavy casualties and their commander was mortally wounded holding the brow of the hill against heavy fire and repeated cavalry charges. But other regiments, including the cavalry, also suffered serious losses.